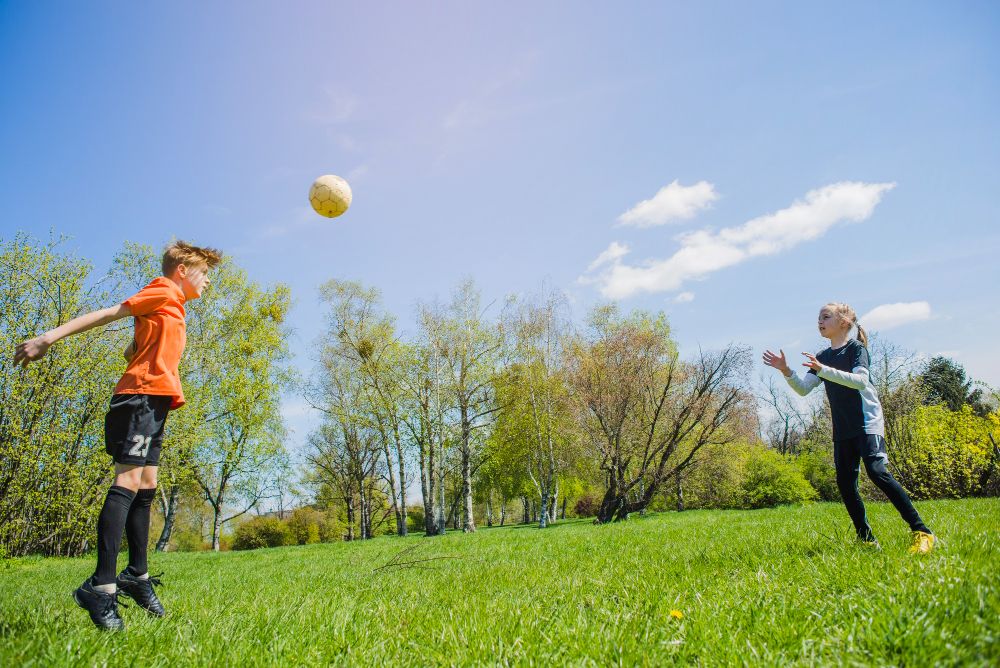 Team sports are a fond part of childhood for many people, and they carry a host of different potential benefits. Children with Autism Spectrum Disorder (ASD) can play sports. However, like with other activities, it can take a little bit of extra care to get kids ready to play at times. So, what should parents know about helping a child with ASD play team sports?
First, let's talk about how sports can make a difference in a child's life with ASD. Then, we'll discuss how to help your child get involved in sports.
Benefits Of Team Sports For Kids With ASD
How can sports make a difference in a child's life with an ASD diagnosis? While the process of helping a child join team sports might be more challenging in some cases, especially with children who require higher levels of support, playing sports can absolutely be life-changing for kids with ASD.
Here are some of the top benefits of sports for kids with ASD:
Sports aid socialization in children. Many kids with an ASD diagnosis struggle with social skills or making friends. Team sports give kids the opportunity to interact with others, work towards a shared goal, and practice other prosocial (e.g., sharing, turn-taking) social skills. Whether at practices or games, sports offer regular opportunities to practice their social skills.
Sports are an opportunity for physical activity. Kids need a certain amount of physical activity (around one hour per day at least), and sports can help them reach it. Physical activity promotes physical health, mental health, and cognitive skills. Various studies link physical activity to improvements in academic performance and other parts of life.
Sports aid hand-eye coordination in children. It is more common for kids with ASD to struggle with Dyspraxia symptoms. Sports have the potential to aid coordination and balance, as well as both gross and fine motor skills.
Sports can improve confidence. Sports can make a child feel more confident, even if the sport is not competitive in nature (it's not about winning)! As you and the coaches help your kid develop the skills of the sport, praise, encouragement, and experiencing improvement and success all builds confidence.
On top of other advantages, sports can be an excellent outlet and source of fun for children. The next step is to help your child get involved in, and perhaps more importantly, enjoy team sports. We have some tips that can help your family get there.
Helping Your Child Get Involved In Team Sports
Some things can make sports more challenging for neurodivergent kids. ASD can present differently from person to person. For example, some people with ASD are non-verbal, whereas others are not. Similarly, other social skills, sensory issues, and interests will all differ. With that in mind, while not every tip will be applicable to every family, here are some things that can help your child get ready for and play team sports.
Consider which sports are best for your child
What are the best sports for a child with ASD? What makes anything (not just sports) autism-friendly will depend on your child's personal needs, strengths, and challenges. Keeping your child's unique needs in mind, here are some things that can guide you toward the best team sports for kids with ASD:
Consider the sensory environment. Indoor sports might be best for a child who struggles with being in the rain. Quiet sports might be better for a child who struggles with loud noises.
Consider the required level of communication. Running track, for example, is a team sport, but it does not usually require as much communication as football. Swim team and bowling are similar in this way.
Every child is different, and enjoyment is the ultimate goal. If your child expresses interest in a specific sport and it's available to them, that's an indicator that it's a good one to try.
Find Autism-friendly leagues
Search online to learn about Autism sports leagues or sports for kids with disabilities in your area. In cities and large towns, you will usually find options for sports and other activities, like dancing, music, or theater. Special Olympics may also be a great option.
Practice necessary skills at home
Once you know what activity you want a child involved in, help them practice the necessary skills for the sport at home. You can work on things like taking turns or playing the sport itself to prepare your child for what it's going to be like. Often, it's helpful to play through what it'll be like to communicate with other kids or the coach with a child so that they have the tools to do so. This also gives you plenty of opportunity to praise your child's efforts and success to build their confidence and comfort levels with the new activities.
Talk with the coach beforehand
Just as you stay in touch with your child's teachers, stay in touch with their coach. Talk with the coach before your child starts playing so that you can tell them about your child and ask questions or express concerns if needed. Get an idea as to if this will be a good fit. You want to be confident that your child's with comfortable, understanding, and supportive people while they play.
Introduce kids to the coach and location in advance
To prepare your child to start their sport, introduce them to the coach and take them to the location where practices will be to show them around ahead of time. That way, they can get used to the space and at least one of the people they'll be around ahead of time. This can reduce anxiety and make the first practices easier.
Make sure kids have support in place
Many kids with ASD benefit from the support of professionals such as Board Certified Behavior Analysts who can help kids decrease behaviors that interfere with your child's success and increase positive outcomes such as improvements in communication skills. This can be helpful for success in team sports and other areas of life.
Support For Kids With Autism Spectrum Disorder In NE
Behaven Kids provides therapy and other services for children and their families. Our programs can help children with their behavior, mental health, and multiple areas of skill development, including social skills and functional skills that can be necessary for sports and other activities. We have multiple locations in NE for kids with Autism Spectrum Disorder, mental health concerns, and related conditions. You can learn more about our process on our website to get an idea of what getting started with Behaven Kids will look like.
To contact Behaven Kids, fill out the contact form on our website or call (402) 926-4373 to schedule your free consultation and tour.