Behaven Kids now offers comprehensive psychiatric services, including psychiatric evaluations, medication management and psychotherapy provided by our board-certified Psychiatric Mental Health Nurse Practitioner, Macy Kasperbauer. These services are currently available at our Omaha and Elkhorn locations.
At the first appointment, a complete psychiatric evaluation will be obtained and an evaluation of the presenting problem will be assessed and treated accordingly.  The Psychiatric Mental Health Nurse Practitioner will review all necessary treatment options to ensure the individual is receiving the best possible care and working towards their overall mental health goals.  Treatment options may include:
Medication Management

Implementing psychiatric medication may benefit certain individuals by alleviating physiological and psychological symptoms that are interfering with day to day functioning. All medications are prescribed by our Psychiatric Mental Health Nurse Practitioner and will be prescribed electronically for the convenience of each family.

Psychotherapy

Psychotherapy is provided by our Psychiatric Mental Health Nurse Practitioner at each appointment to make sure each individual is processing their feelings and emotions effectively and building the skills they need to achieve their overall mental health goals.

Coordinating Care

Our Psychiatric Mental Health Nurse Practitioner provides a comprehensive approach and will coordinate with any outside referral sources and/or other treatment providers, as requested by the caretaker, to ensure overall progress of the individual is maintained and to ensure clinical recommendations are implemented outside of regularly scheduled appointments. Outside referral sources may include, but are not limited to: schools, therapists, primary care physicians, hospitals, case workers, daycares, etc.

GeneSight Testing

When a person is experiencing mental health symptoms, they want the best possible treatment options to alleviate their symptoms in a timely manner. Unfortunately, alleviation of symptoms and optimal benefits of psychiatric medication can be a lengthy process and often requires several attempts at finding the right dose and right medication for each person. To help eliminate the trial and error process, Macy Kasperbauer, PMHNP-BC offers Genesight testing to aid in appropriate medication options for each individual patient. Genesight testing is precision medicine for mental health diagnoses that assesses specific genetic markers to determine which medications are genetically compatible to the patient. It is the leading and most sophisticated psychiatric testing on the market, that is designed with patient ease and satisfaction at the forefront. If you would like further information on Genesight testing, please click on the designated tab in the menu above and/or schedule your psychiatric evaluation today.
---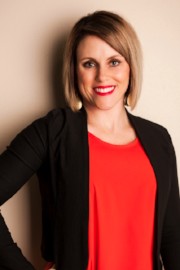 Macy Kasperbauer, PMHNP – BC
Psychiatric Mental Health Nurse Practitioner – Elkhorn
Macy is a psychiatric mental health nurse practitioner, specializing in child and adolescent psychiatry.  As a psychiatric mental health nurse practitioner, she provides psychiatric evaluations, mental health diagnoses, psychotherapy and medication management in an outpatient setting.  Macy received her Bachelor of Science in Nursing from Nebraska Methodist College in December 2008 and worked for Behaven Kids as the Director of Nursing for several years prior to returning to school and furthering her education in psychiatry.  She completed her Master of Science in Nursing from the University of Nebraska Medical Center in 2015 and worked at CHI Psychiatric Associates post-graduation, advancing her practice as the psychiatric mental health nurse practitioner of a well-known child and adolescent psychiatrist. She is now utilizing her knowledge and skills at Behaven Kids, to offer outpatient treatment for those in need.
What Patients Are Saying
" We have been to many psychiatrists. Macy is by far the most caring and effective we have seen"
" Macy is no-nonsense, supportive, and such a positive influence. We highly recommend her."